On Family Day, we decided to talk about the components of family well-being. The secrets of a happy life were shared by Roman Skachek, father of three children, teacher, scientist, inventor from the Academy of the Ministry of Internal Affairs.
Big plans
Roman Vladimirovich - militia lieutenant colonel, candidate of legal sciences, associate professor. Since last year, he heads the Department of Crime Investigation of the Faculty of Investigators. Prior to this, he went through all the steps of work in his native department, starting with the position of teacher. Needless to say, how well the officer is familiar with the life of the entrusted unit! Accepting the duties of a leader, Roman Skachek did not part with science: he researches, creates and plans to patent his inventions.
A lot of work, not a minute of free time. Inspiration and energy, as the officer admitted, he draws in the family circle.
This is destiny!
- We met by chance, just walking along the street. This is love at first sight, "recalls Roman Vladimirovich's acquaintance with his future wife.
At that time, a young law enforcement officer worked in the distribution unit after graduating from a militia university.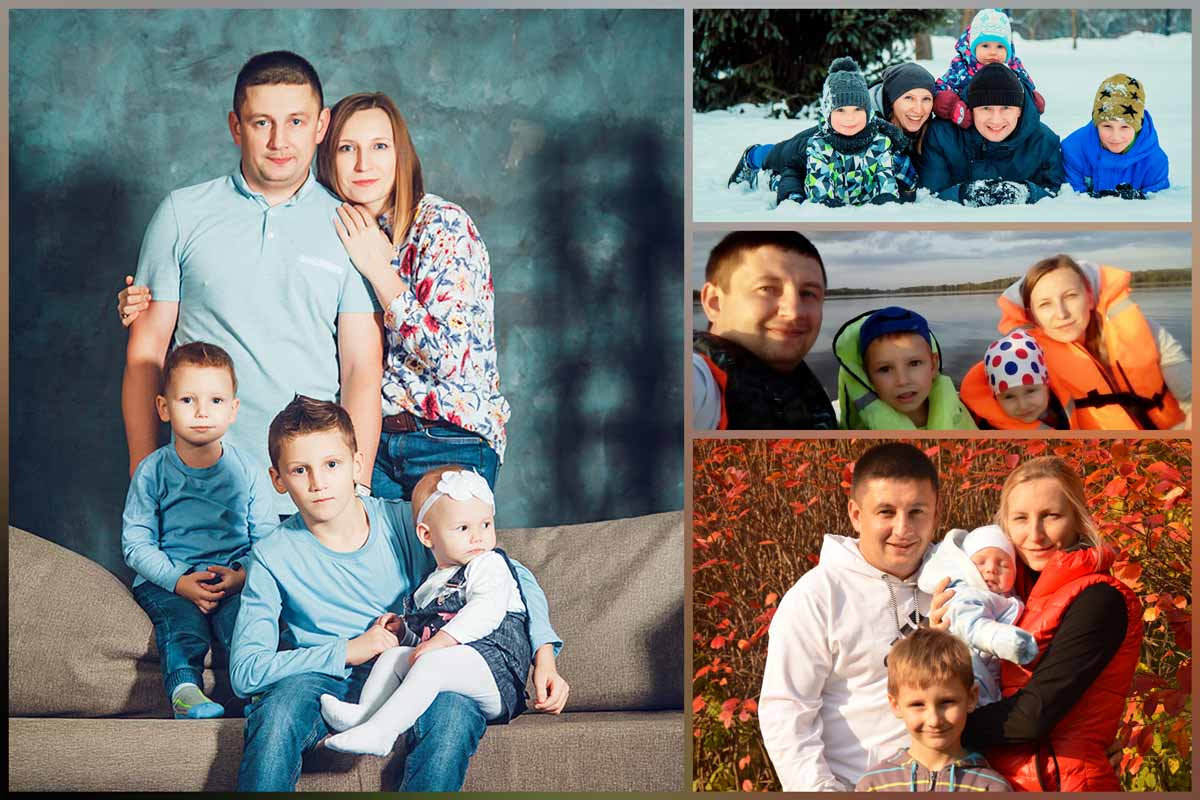 "Now we have two little son and little daughter," the officer says, not without paternal pride. - Polina is 3 years old, Ilya is 5 years old, and Zhenya is 12. Our family is athletic, with common interests, but at the same time everyone has their own hobby.
Elena is an economist by foreign trade. She spends her free time from work and family worries behind books. In addition to reading, she enjoys baking. The confectioner's talent was appreciated by all relatives. Mom's cakes, they say, are simply incomparable! Both tasty and beautiful.
Two little son and sweetheart daughter!
Eugene has been practicing judo for six years now. He has chosen this sport on his own and is now trying hard. The medals won at the Minsk championships have already gathered in the piggy bank of achievements. Also numerous magnets from different cities and countries indicate participation in international tournaments abroad.
Speaking of magnets. This hobby is a common family affair. Everyone necessarily brings such a souvenir - in memory of the place and event. A lot of magnets gathered, so the head of the family decided to take a special wall under them. Everyone supported the idea.
The middle son Ilya, like his brother, is involved in sports, but so far he has chosen gymnastics. The fact that the children are so passionate seems to be a considerable merit of the father.
"I go in for sports at least three times a week, run 10 km, then a horizontal bar, bars, push-ups," Roman Vladimirovich shares secrets of a good physical form. - Active leisure is our family hobby. If possible, we go to nature, go in for tourism. Last vacation we were on Braslav Lakes, we looked at all the sights around.
Daughter Polina likes this kind of rest. True, the parents do not yet know whether she will choose any sport, but now her creative nature is already visible. Pauline can draw half a day. Without being distracted by anything else, she still displays only some scribbles but who knows, maybe portraits and landscapes are not so far away!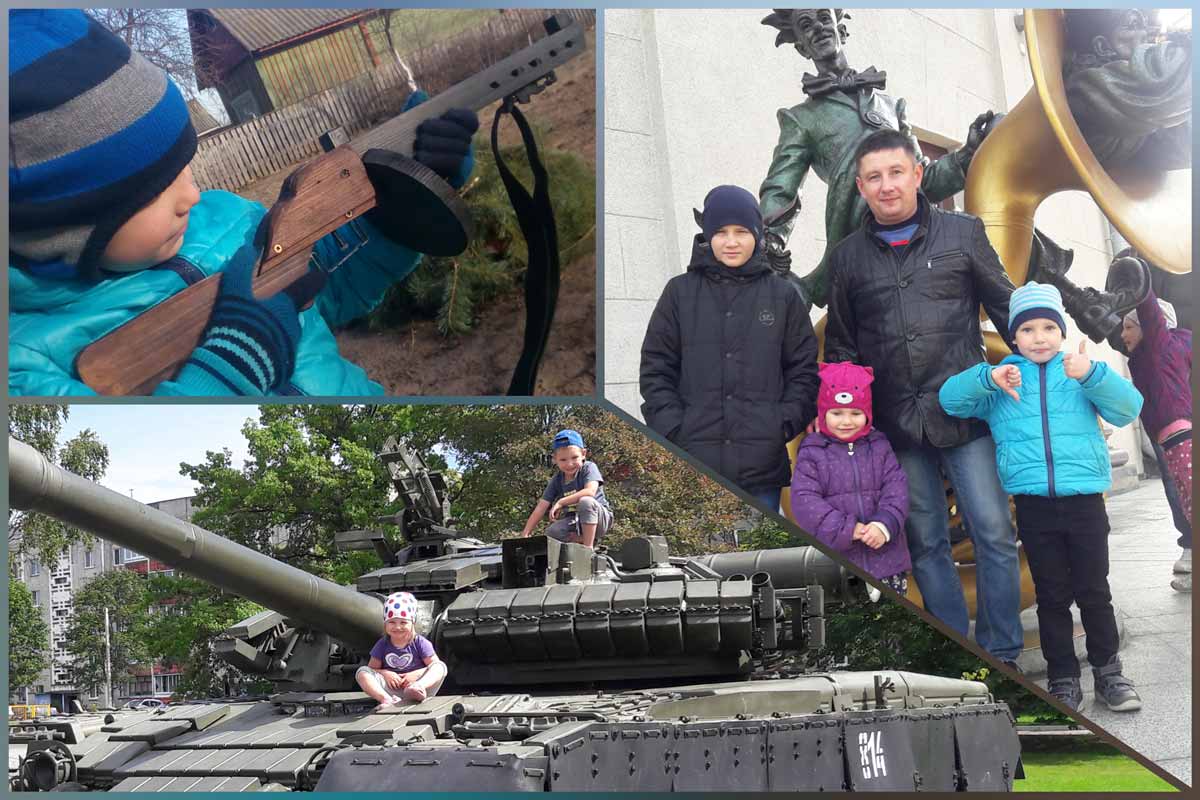 Zhenya also found one non-sporting hobby. Like many boys, he loves computer games. But firstly all of them undergo paternal censorship. Roman Skachek sure: computer games should develop children, but in no way cause aggression and anger.
We can not talk about the hobby of the head of the family. Roman Vladimirovich carves amazing things from wood, and this is an unbiased opinion of his sons. Now they have a wooden sword and a machine gun in priority. Toys made with love and care, children do not let go. Although you still have to be distracted by serious matters - no one canceled his studies.
Secrets of parenting
"I consider discipline to be important in upbringing, this is the basis," Roman Skachek shares his secrets. - We teach children not to put things off until tomorrow, but to cope with them here and now. So it turns out that the fun goes after the lessons.
A father with many children is also sure: children should participate in solving important issues. Therefore, parents are always interested in the opinions of the younger generation. In addition, the family tries to spend more time together.
"We are going to a large table, we are waiting for each other, and then together we discuss how the day went, share our impressions and plans," says Roman Skachek. - My wife and I are trying very hard to raise children together so that when they grow up, not everyone lives on their own, but they feel mutual support.
Lifestyle
The same enthusiasm as in the family circle is reflected in the working days of the scientist officer. His inventions are already awaiting in practical divisions. Work is now nearing completion of a "unified backpack" - this is a comprehensive tool for ensuring the conduct of investigative actions. Roman Skachek is also the author of a computer program designed to help with the investigation of accidents. Work on the invention is still going on, and in the near future, thanks to a computer algorithm, it will be able to give objective answers to controversial questions, who is guilty and whether it was possible to prevent an accident.
At the same time, subject training areas are being prepared for students. Roman Skachek spoke about scaled 3D models of rugged terrain, a city block, etc. They can be deployed in the classroom and, without going outside, conduct practical exercises and clearly analyze the features of working on the ground with cadets.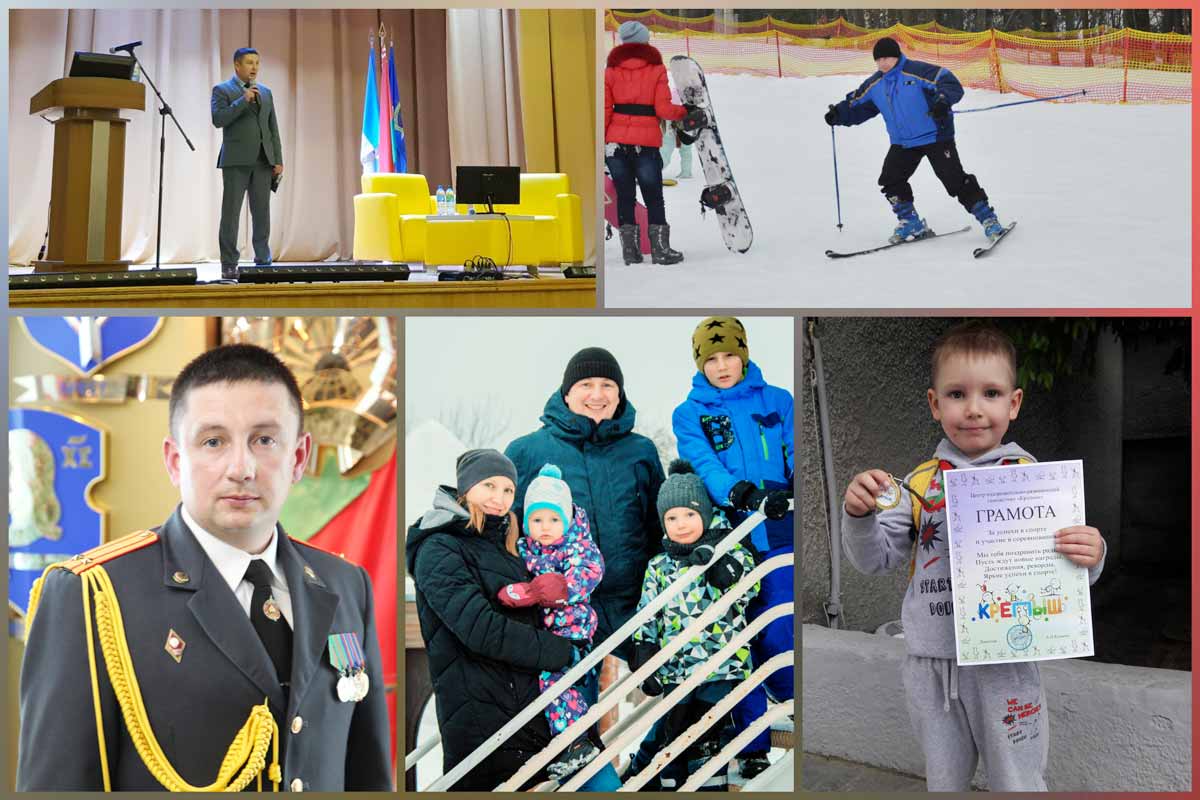 Large family of teacher, scientist, inventor from the Academy of the Ministry of Internal Affairs Roman Skach
- This is my area of ​​interest, I constantly communicate with employees of practical departments, often spend training on the basis of the Investigative Committee, Roman Vladimirovich lists, and admits:
- After defending my dissertation, it seemed to me that in practice it is more interesting, and science is boring and not for me. However, I saw how many opportunities the academy creates for scientists, there are all conditions for development. Scientific activity can be interesting, especially when you invent, create computer programs and hardware.
When asked how to do everything, the scientist confidently answers: you just need to strive and everything will work out. Do not sit still and do not wait, but act, be a passionate person.
"I like the fact that my life is seething: family, work, science, sports - not a moment of peace, and it is impossible to get tired of it, because it is a way of life," Roman Skachek sums up.