We suggest you to familiarize yourself with the features of coronavirus and the main symptoms of infection.
COVID‑19 is an infectious disease caused by the recently discovered coronavirus. We will remind you that an outbreak first occurred in December 2019 in the city of Wuhan (China). Prior to this, nothing was known about the new invisible enemy. In March 2020, the World Health Organization announced a pandemic.
In Belarus we continue to monitor the emerging epidemiological situation and, if necessary, patients are hospitalized.
The duration of the incubation period of COVID‑19 ranges from 1 to 14 days and most often is about five days. This is the period of time between infection and the onset of clinical symptoms of the disease.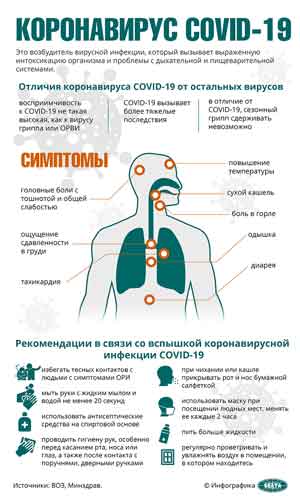 The most common symptoms of COVID‑19 include:
increased body temperature
fatigue
dry cough
Other manifestations are not excluded, for example, nasal congestion, runny nose, inflammation of the mucous membrane and tonsils of the pharynx, diarrhea, various pains.
As a rule, symptoms are mild and develop gradually.
The disease can be asymptomatic - no signs of feeling unwell.
According to the WHO, in most people (about 80%), the disease ends in recovery, and no specific treatment is required. In about one in six cases of COVID-19, severe symptoms occur with the development of respiratory failure. In older people, as well as people with existing somatic diseases, such as arterial hypertension, heart disease or diabetes, the likelihood of a severe course of the disease is higher. If you have fever, cough, or difficulty in breathing, seek medical attention.
You can get the virus from other people if they are infected.
The disease can be transmitted by airborne droplets, in other words, from person to person through small drops released from the nose or mouth when coughing or sneezing. For this reason, it is important to stay away from a sick person at a distance of more than 1.5 meters. Feel free to wear special fabric masks on your face. This is especially important for already infected people, even if they themselves do not know that they are sick.
The smallest drops with a virus from a person's nose or mouth can fall onto surrounding objects and surfaces. Touching them, people subsequently transfer the virus to the mucous membranes of the eyes, nose and mouth, and this increases the risk of infection.
To protect themselves and prevent the spread of the disease, it is necessary for all people to observe precautions without exception.