In practice, in the unit of the State Automobile Inspection, a cadet of the Academy of the Ministry of Internal Affairs was able to participate in the pursuit of a stolen car. The crew was on duty in the Logoisk region.
Jan Bezbozhniy, a cadet of the Faculty of Militia, is undergoing pre-graduation practice at the department of the State traffic inspectorate of the Logoisk district. On March 17, he served on the Minsk-Vitebsk section of the road. The driving partner - Alexander Basko, senior inspector of the road patrol service.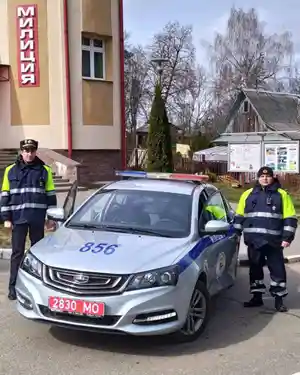 At this moment, information was received about the movement of the stolen van from Minsk. Road guards gave a stop signal, when they noticed the yellow Volkswagen,. The driver ignored all the requirements. The crew began the persecution. In an attempt to hide from the law, the attacker drove fastly, creating an emergency in all lanes.
It is known that a previously convicted 50-year-old resident of Vitebsk stole a Volkswagen in Brest, and then, having passed the capital, headed towards Vitebsk with the registration signs replaced.
When law enforcement officers forced the van to stop, the driver instantly disappeared into the forest. However, the escape failed. Officers detained the offender.
For the Academy of the Ministry of Internal Affairs this is a case in point. Our cadet played a significant role in the detention of the criminal. He participated in this pursuit - both on the roads and in the forest.