Newspaper "SB. Belarus today "shared the most interesting facts from the scientific life of the academy, spoke about the contribution of our scientists to combating crime.
The XX International Scientific and Practical Conference was held at the Academy of the Ministry of Internal Affairs. Key topics were crime control and law enforcement training.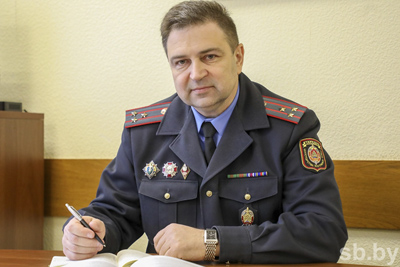 Research work at academy has been ongoing for a long time. What is behind this? The candidate of legal sciences, associate professor Valery Rodevich speaks about it in a special issue of the Academy of the Ministry of Internal Affairs on the pages of "SB. Belarus today" 
The theme of the conference is interesting to all participating countries, since everywhere the problems are very similar. International crime is attracting attention, new risks appear in connection with the development of the IT sphere, there is a need for new approaches to the training of law enforcement officers.
If we talk about research activities in the academy as a whole, then the scientific search is carried out as part of the research work initiated by government and the academy itself, with experimental testing of the results. Another area is the preparation of candidate and doctoral dissertations.
In research work, attention is focused on crimes in the IT sphere. Our scientists and teachers participate in patent licensing activities, offer new developments. For example, this is a distance meter between objects using a digital camera for forensic research, two computer programs that enable investigators to quickly and accurately identify criminals by analyzing the movement of money in bank accounts and analyzing data from telecom operators.
The Academy is actively involved in the scientific segment of the activities of interstate bodies of the CIS, as well as in the implementation of programs at the republican level. The results of research activities are published in scientific journals. On their basis, methodological recommendations for law enforcement agencies are being developed.
It is very important at the initial stage to captivate a person with research activities. Cadets effectively participate in national and international scientific events. High results were shown by our youth at international competitions of scientific works and at the Republican competition of scientific works of students. As a result, our cadets constantly become holders of scholarships, prizes of the special fund of the President of Belarus for social support of gifted students.